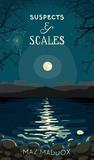 Suspects & Scales
by
Maz Maddox
My rating:
5 of 5 stars
This is the 3rd Stallion Ridge story and the best one yet! Maz Maddox is getting better and better.
At the end of Book 2 Deputy Cody Moore discovered the dead body of his dear friend, the Iara calling himself Wade, and in the moment he did Cody _changed_. Changed into a monster, something that should not have been possible given that Cody was human, not one of the other races. His grief, his guilt pushed him to the point of change.
But Wade wasn't just any Iara, he was Salias, the youngest son of Matron Lelia, ostensibly the queen of the Iara. Wade had been a prince and had been murdered. Matron Lelia wanted vengeance for her son's murder and when she came to claim her son's body she brought with her the one person she trusted to mete out justice - her assassin, the Iara Widow Quellin.
Quellin was more than just an assassin and had powerful ties to both his matron and the dead Iara prince. Vengeance burned in his heart, but there was something about young deputy Moore, Salias's human friend, that made him burn in a different way.
Cody is determined to help Quellin find Wade's killer, but he was also determined to bring the killer to proper justice because it was the righteous thing to do. But there was something about the Iara Widow that made Cody tingle in places he'd never tingled before. As they worked together to catch Wade's killer their attraction burned hotter and they eventually gave in to it but...
Quellin was Matron Lelia's to command, his life was not his own, and as such he could never be Cody's. As the investigation nears it's conclusion Quellin is forced to make the hardest choice of his life. His promise to Matron Lelia, or the young more-than-human who'd captured his heart.
This book was amazing. Seriously. And I leave you with two words...
Supernatural. Shibari.
Daaayaaaaaamm ::Fans face::
View all my reviews